Label Rouge country-style roast chicken and potatoes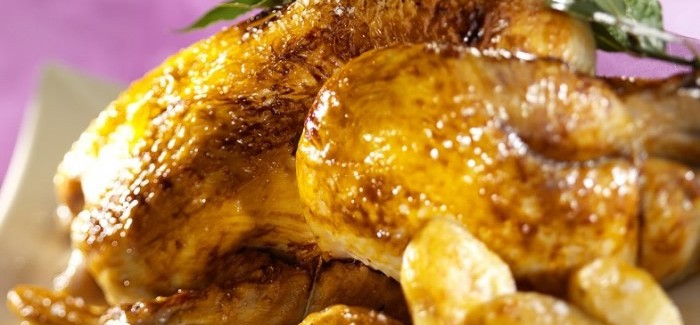 Preparation time: 15 mn
Cooking time: 1 h 15 mn
Ingredients:
1 Label Rouge traditional country chicken
1 lemon
1 onion
50 g butter
1kg baby new potatoes
Preparation:
Pre-heat the oven Th. 7 (210° C).
For the lemon juice over the chicken and rub it into its skin. Place the lemon halves inside the carcass with the peeled onion cut into four.
Brush the melted butter over the chicken. Season with salt and pepper and place in a large oven dish.
Peel the potatoes and cut into 4.
Brown them in a little oil in a frying pan.
Arrange the potatoes around the chicken, add 15 cl of hot water.
Place in the oven and roast for 30 minutes.
Decrease the oven temperature to Th.6 (190°C), turn over the chicken and baste with the juices, turn over the potatoes and put back into the oven for 45 minutes, basting regularly (about every 15 minutes). 5 minutes before serving place the chicken on a wooden cutting board and cover with a sheet of aluminum foil, leaving the potatoes in the oven.
Cut up the chicken, place the pieces on a serving dish, arrange the potatoes around them and serve immediately, serving the juices separately in a sauceboat.