Key figures of the sector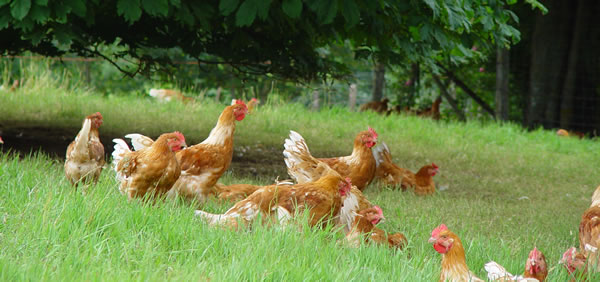 The poultry-farming sector
In 2015, the Label Rouge poultry sector represented:
30 quality groups (QGs) scattered around various different regions of France,
around 6000 poultry farms producing meat and eggs,
around 250 companies (hatcheries, feed manufacturers, slaughterhouses and processing plants).
Production of Label Rouge eggs
There are 1.7 million Label Rouge hens in 2013 (about 75% of the national workforce).
Production of Label Rouge poultry
In 2014, implemented laying hens and production of Label Rouge eggs increased by 5% and 6% respectively compared to 2013. (source: Synalaf)
There are 94.2 million labeled chickens in 2014. It increased by 4% in 2013 and 6% in 2012, with a share of yellow chickens (50%) which continues to rise.
Household purchase of Label Rouge poultry
In 2014, Label Rouge traditional poultry accounted for over half of whole chickens purchased by French households (61%). (Source: Synalaf, from FAM/Kantarworldpanel)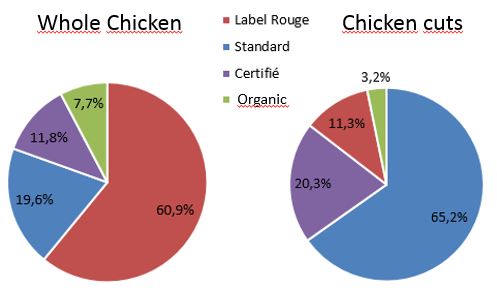 Exports of Label Rouge traditional chicken
Exports account for at least 5% of the national production of Label Rouge poultry.
In 2014, direct exports by slaughterhouses increased overall by 1% compared to 2013.
Label Rouge poultry are overwhelmingly exported as whole form (84%), whole chickens alone accounting for 73%.
The main importators country are Belgium and Germany, which account together for nearly 54% of the volume exported in 2014.
Exports rose particularly to :
- The United Kingdoms (+28%), recipient of 4% of exports,
- Switzerland (+21%), recipiend of 11% of exports,
- And "other destinations" (+13%), recipients of 24% of exports, particularly Luxembourg, Scandinavia, Austria, Czech Republic or Spain.