Chicken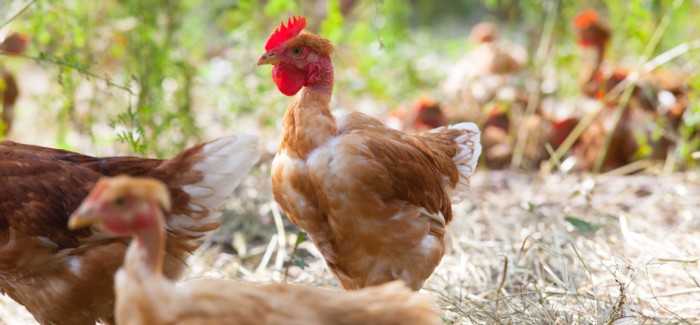 Label Rouge traditional chicken
Among the whole range of foodstuffs produced on farms, chicken was the first species to obtain the Label Rouge in 1965.
Origin
Hardy breeds, selected for the quality of their meat and their slow growth (golden or black feathers).
Farming methods
Label Rouge chickens are reared in small, well-lit poultryhouses (400 m² maximum per poultryhouse) in natural daylight. Chicken farms are allowed a maximum of four poultryhouses.
The maximum stocking rate inside the poultryhouse must not exceed 11 chickens per m².
As soon as their feathers are fully developed, the fowl are let outside and allowed to roam free on large grassy and/or shady areas comprising:
At least 2 m² per subject for "free-range" traditional chicken (around 1 hectare per poultryhouse),
Unlimited range for traditional chicken reared "in total freedom".
Feed
Their feed must contain at least 75% cereals and cereal products during the fattening period.
Age
Label Rouge traditional chickens are not slaughtered until they reach an age ranging between 81 and 110 days, according to the Label Rouge (this is at least twice as old as a standard chicken).
Final Product
Label Rouge chickens are Class A fowl (European standard pertaining to external appearance) and must therefore be perfect in terms of their presentation.
They can be presented as:
partially eviscerated (with giblets), i.e. with part of the gut removed
ready-to-cook: their mean weight range is between 1.2 kg and 1.7 kg
cut into portions as: escalopes, breasts, filets, legs, thighs, drumstick, chicken halves, pre-cut whole chicken
marinated and seasoned
roasted.
Shelf life
Their shelf life is:
10 days maximum after slaughter for unprocessed whole chickens or chicken portions packaged with shrink film
14 days maximum after slaughter for whole chickens or chicken portions vacuum packed or presented in modified atmosphere packaging (or gas-filled packs)
Cooked products
Several Label Rouges propose ready-to-eat roasted chickens. These are traditional chickens raised exactly the same way as previously described, then roasted without flavor enhancers, phosphates or preservatives.