Label Rouge chicken thighs marinated in orange and mangetout peas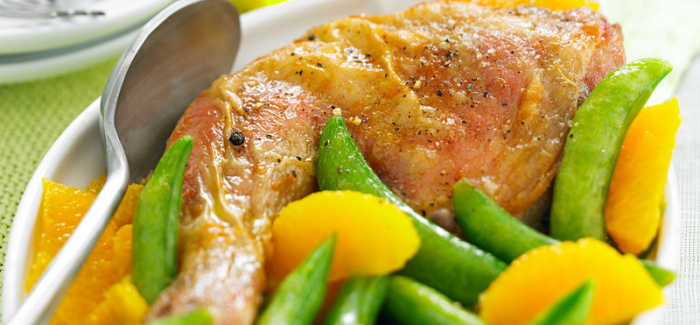 Preparation time: 10 mn
Cooking time: 30 mn
Ingredients for 2 people:
2 Label Rouge chicken thighs
2 oranges
200 g mangetout peas
sea-salt crystals and freshly ground pepper
To marinate
1 clove of garlic
1 tablespoon of olive oil
salt, pepper
1 tablespoon of honey
juice of 1 orange
1 teaspoon of orange flower water
Preparation:
Pre-heat the oven to 200°C (th.7). Crush the garlic, prepare the mixture to marinate the chicken in a bowl, pour evenly over the chicken thighs and cover with cling film. Place in the refrigerator while you prepare the oranges and the mangetout peas.
Peel the oranges, removing all the pith, and divide into segments. Cook the mangetout peas for 5 minutes in a pan of boiling salted water. Rinse immediately in cold water to keep them green, and then drain.
Arrange the chicken thighs in an oven dish, pour the juices they marinated in over them and cook for 20 minutes basting from time to time.
Add the orange segments and the mangetout peas, leave to cook for another 10 minutes.
Serve piping hot with a garnish of white rice.